Contact Views (Filters) Improvements
in progress
marked this post as
in progress
marked this post as
planned
Merged in a post:
Keep the "Unresponded" Count on the Messaging Module until the Agent answers or marks the conversation done.
When a contact sends you a message, his conversation will show a badge with the "unread" messages. If any of your agents opens that conversation, that badge will disappear.
This is the behavior most people will expect as it's what would happen on any personal messaging app (like Whatsapp).
We are evaluating a NEW behavior, in which that badge with the unread messages will remain there regardless if one of your agents has open the conversation. That badge will remain there showing the number of last "unresponded" messages until someone replies to that conversation, or the conversation is Marked Done.
Please share if you AGREE or DISAGREE with this behavior. We will take your feedback strongly into consideration before we implement it.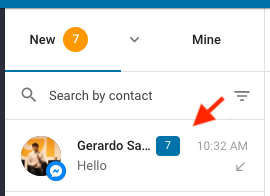 marked this post as
under review