It has been a few months since you last heard from us, but our silence has not been in vain. We are now back with the most highly-anticipated feature release of the year: Workflows 🎉
It's a one-stop centre that handles everything from setting Greeting and Away Messages to automation creation and automatic assignments. Excited yet? You will be! Let's go through some of Workflows' highlights.
Yes, Workflows has a dedicated module. You can add, manage and edit your Workflows easily here, as well as have an overview of all automated processes in your space. Current modules such as Automations, Surveys, Greeting Message, Away Message and Automatic Assignment can all be achieved with Workflows. And
that
means that all the above-mentioned modules will soon be deprecated - but not yet, so don't panic!
Instead of creating automation in a form, you can now use a Workflow Builder. The builder provides a map-like view of automated processes, as well as simplifies the building and editing of Workflows with easy drag-and-drop steps.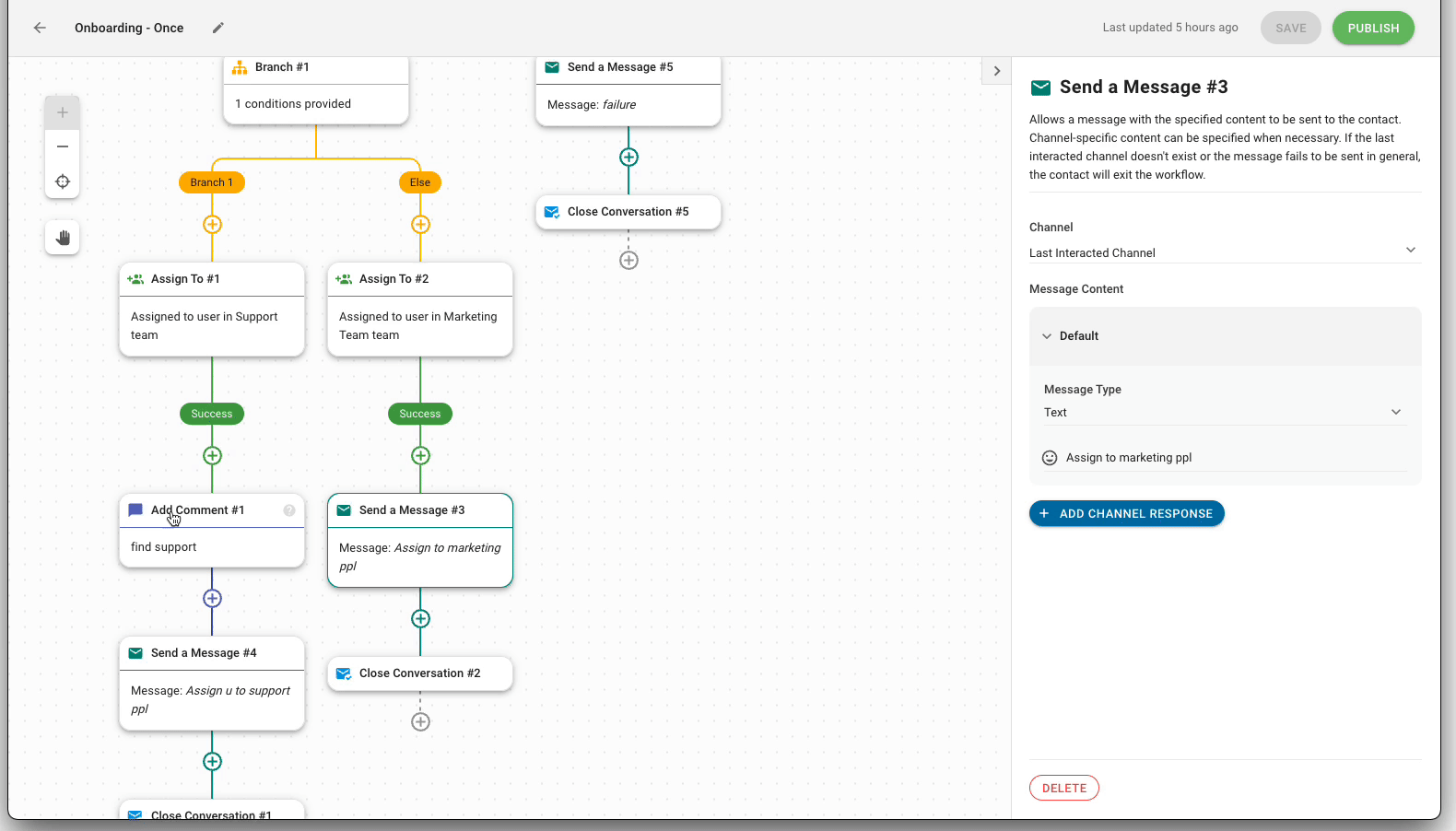 Interested? Learn more about Workflow Builder
here
.
That's not all. As Contacts have a variety of interaction purposes and needs, you can now create specific branches for different user journeys. Set conditions to direct Contacts to the right branch, and create failsafe branches for those who fall outside the conditions. How's that for a personal touch?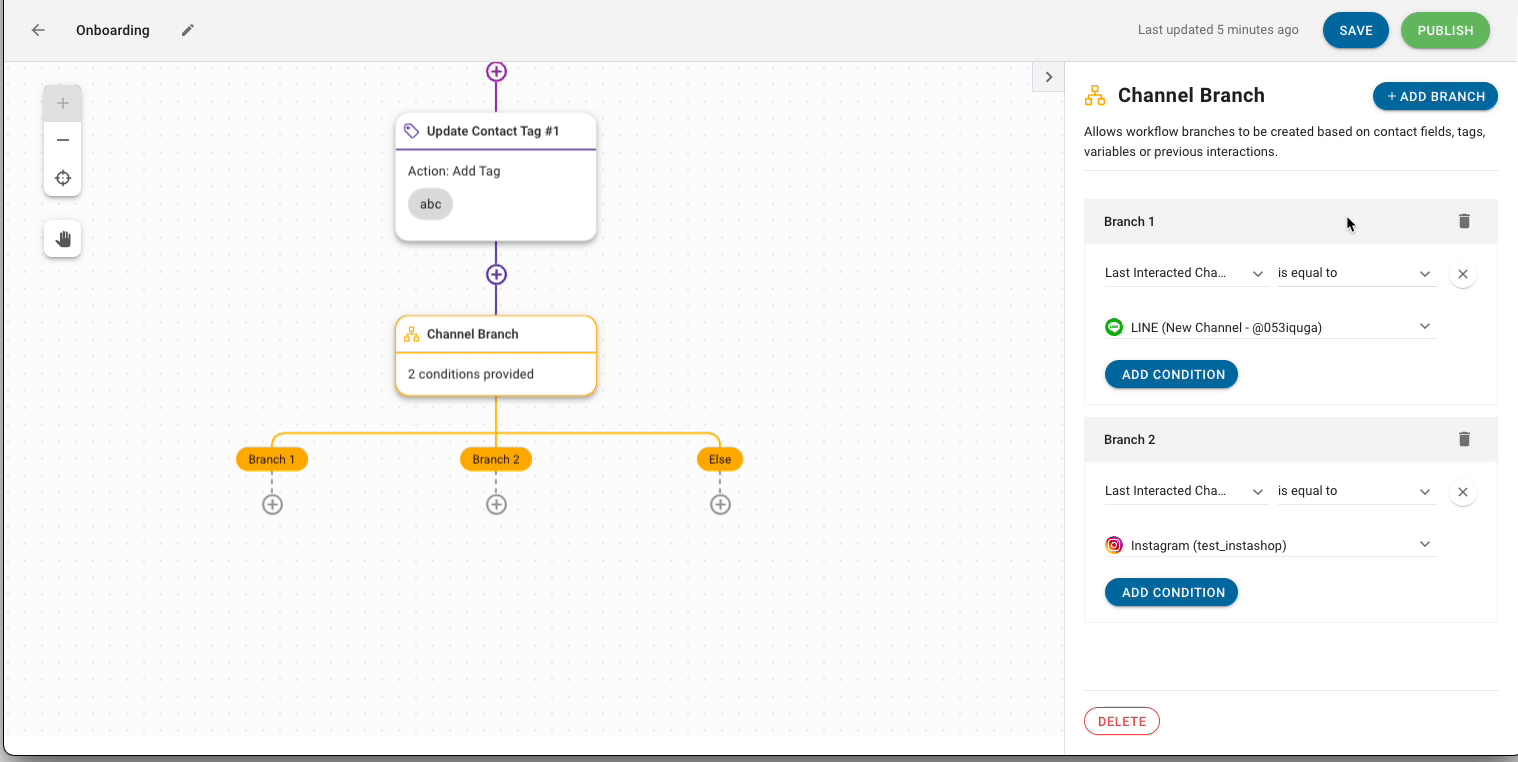 You asked and we delivered. After receiving numerous requests for more automatic assignment options, we made sure those wants would be met in Workflows. Check out the Assign To step, which gives you unrivalled flexibility in assigning Contacts to anyone in the space, specific users, and even users in specific teams - a brand-new feature! You can also use conditions such as channels, tags and custom fields to take Contacts down different branches and assign them to users accordingly. Learn more about Assign To
here
.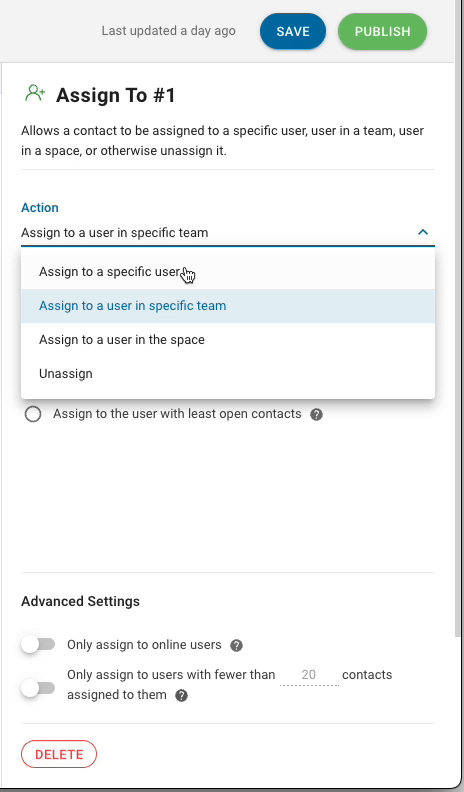 Greeting and Away Messages
Say "hello" or "sorry we missed you" to Contacts easily with Workflows. We're introducing a better way for you to manage Greeting and Away Messages. With a little bit of automation wizardry, combine the Date & Time step that lets you define your business hours with a Send a Message step. Contacts who message you during work hours will be promptly greeted while those who get in touch outside of business hours will be sent an Away Message. There's a spell for that: it's called Expectations Managed!
Send Template Messages via Workflows
You might be wondering if you can lighten your workload even more and send template messages over Workflows. The answer is a resounding yes. In the Send a Message step, check if your chosen channel supports a template message. If it does, you've hit messaging gold.
Wait, what? What's wait? Let's say you want to schedule a message to be sent after a certain amount of time. There's now a step for that: the Wait step. Slip it in between a sequence of steps and configure the waiting period between both events. This opens doors for things like follow-up messages.
Of course, this comes at a price. The number of Workflows you can create depends on your
respond.io
Plan:
Free: 1 Workflow
Pro: 3 Workflows
Business: 15 Workflows
Enterprise: Unlimited Workflows
Want to find out more? Read all about Workflows
here
. To explore use cases that can be achieved with Workflows, check out this
blog post
.
Is this release all about Workflows and only about Workflows? Of course not! We have more in store for you.
[NEW] Message Template API
We heard you loud and clear. As requested, you can now send WhatsApp Template Messages to your WhatsApp contacts on the platform.
What's that you're asking? Does the API support Interactive/Media Message Templates? Aha, you'll have to check out the documentation
here
for more details!
And some annoying bug fixes...
You can now click on URLs included in Template Messages on the Messages Module
The Push Notification issue triggered when logging onto the platform via Google is fixed
The missing Inline Images in Email has been resolved